Set Up Arduino/Genuino Uno
Welcome to our next Set Up Guide! This one's all about Arduino. Specifically their popular Uno microcontroller. If you just bought an Arduino/Genuino Uno and are looking for where to start, this is the guide for you!
Things You'll Need:
Arduino/Genuino Uno Microcontroller
Windows, Mac or Linux PC
Standard USB Cable/Printer Cable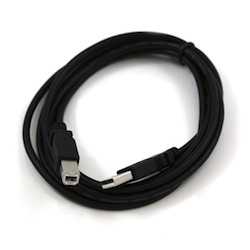 Let's Get Started
Now that you've got all your gear, let's get things set up and run your first test program.
STEP ONE: Install Arduino IDE
Doing work with the Arduino Microcontroller, you'll need the Arduino IDE (Integrated Development Environment). So head on over to the Arduino.cc website and download the IDE. Their is an online/web version as well, btu we recommened installing the IDE on your PC to allow you to work offline. Go ahead and download the appropriate version for your operating system.
If you're on a Raspberry Pi you can simply open up terminal and type:
sudo apt-get install arduino
STEP TWO: Connect Your Arduino to Your PC with Your USB Cable
Now that you've installed Arduino IDE, you can go ahead and connect your Arduino Uno to your PC with your USB cable. This both powers your Arduino and allows you to send program/send code to it.
STEP THREE: Install/Update Arduino Uno Drivers
Now you'll want to install/update your Arduino Uno boards drivers. Windows XP through to Windows 10 will automatically install drivers when you connect your board.
(From Arduino.cc)

If you downloaded and expanded the Zip package or, for some reason, the board wasn't properly recognized, please follow the procedure below.

Click on the Start Menu, and open up the Control Panel.
While in the Control Panel, navigate to System and Security. Next, click on System. Once the System window is up, open the Device Manager.
Look under Ports (COM & LPT). You should see an open port named "Arduino UNO (

COMxx

)". If there is no COM & LPT section, look under "Other Devices" for "Unknown Device".
Right click on the "Arduino UNO (

COmxx

)" port and choose the "Update Driver Software" option.
Next, choose the "Browse my computer for Driver software" option.
Finally, navigate to and select the driver file named "arduino.inf", located in the "Drivers" folder of the Arduino Software download (not the "FTDI USB Drivers" sub-directory). If you are using an old version of the IDE (1.0.3 or older), choose the Uno driver file named "Arduino UNO.inf"
Windows will finish up the driver installation from there.

See also: step-by-step screenshots for installing the Uno under Windows XP.
STEP FOUR: Load Your First Sketch
In the world of Arduino, programs are know as Skteches. Let's go ahead and load up your first one to test that your Arduino Uno and PC are properly communicating. Once you have your Arduino Uno connected to your PC, go ahead and open up the Arduino IDE.
The Arduino IDE comes with loads of great Example Sketches for you to use. They are completely open source, so go ahead and use them as is, tweak them or implement bits into your final projects.
Open the LED blink example sketch: File > Examples >01.Basics > Blink.
STEP FIVE: Select your Board and Port
After opening the LED blink sketch you'll see some code load into the window. That's good! Now we need to head over to Tools > Board and select your Arduino/Genuino Uno.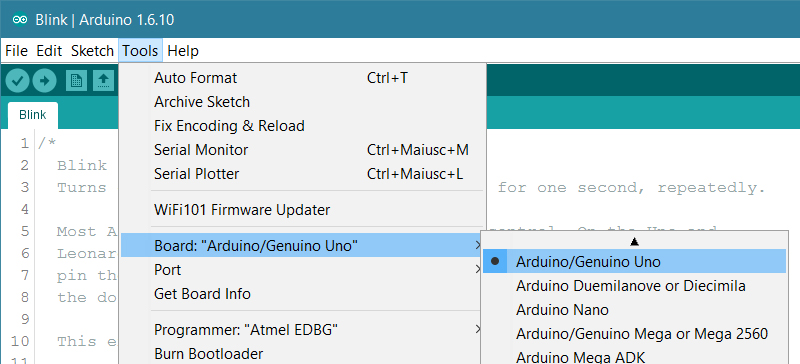 Now you need to select the serial device of the board. Go to Tools > Port. It will most likely be COM3-COM6 as COM1 and COM2 are generally only used as hardware serial ports. If you're unsure, just unplug your Arduino from your PC andgo back to Tools > Port. The COM that dissapered is your Arduino Board. Go ahead an reconnect it and reopen the port menu ad select the correct COM!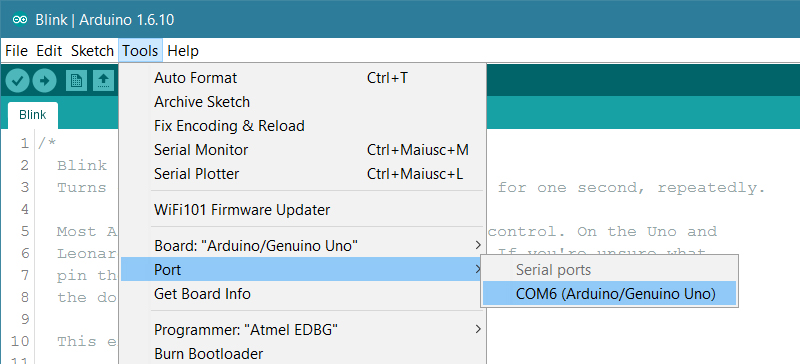 STEP SIX: Upload Your Sketch To Your Arduino/Genuino Uno
Uploading your sketch sends and runs the code on your Arduino board! Just click the circular blue button with the right arrow. This will upload the sketch.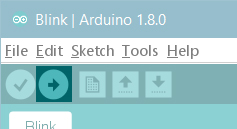 If you did everything correctly, the LED located at pin 13 on your Arduino board should now be blinking in orange!!
If not, check out the Arduino.cc troubleshooting center.
Now that you're all set up, it's time to get making!! Check out the rest of our website for more tutorials and projects to do with your Arduino Board, or head on over to the Arduino.cc project hub. It's an awesome place full of tons of user created projects.
Sources: [Arduino.cc, Screenshot image from Arduino.cc]